Testimonials



My 1960 Austin Healey 3000 sold Friday afternoon (10 Jun 2011) and we received the payment today... thanks to your ad ... I believe the ad was placed in Nov of last year. This is the 2nd car we have sold thanks to your ads.The other one was the 35 Ford we sold last year (24 Nov 2010). I will edit my ad and mark it sold and will have you a check in the mail. Thanks so much,
Bernard Huntsville, AL



I just wanted to thank you for providing a free place to sell my cars. It seems almost every site I visit on the web lately is some kind of racket . You all are doing it the way it was meant to be. Thanks again.
Eric



Within days of posting on your site I received interest from all over the country on several of the collector cars I had for sale. Two different customers travelled from over 400 miles away to purchase cars within weeks of posting. Having contributed on the Honor System I would heartily endorse your website for anyone interested in collector cars.
Best Regards,
Christian



Thank you for your great site. We have sold the 1965 Thunderbird. We will send you our fee tomorrow... Thanks again. Dianne



Hi,
I'm the guy who you fixed the Fairlane and Mustang adds for yesterday. The Mustang already sold
today! Three weeks in the autotrader not sold, 24
hours on your site and it is sold! If you could
please remove that add I would appreciate it (I
don't know if I can delete it myself, if so, tell me
how) The add that I need deleted is the one for the 1968 Mustang convertible . I will be forwarding my $20 on Thursday. I am also placing another add today for a 68 Barracuda. Thanks again!
James
Place your FREE ad today and reach
thousands of classic car enthusiasts!

---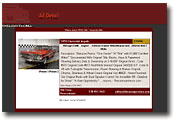 How do I place an ad?
First register with our site. After registering, login and fill out the 'Create Ad' form. You will then be given the option to upload up to 8 photos to include with your ad. After completing your ad you can create additional ads. Your ad will be posted after approval by us within 24 hours.
Ad includes:

Up to 8 photos
You can upload them at time of ad placement, email them to us or send them in to be scanned.
Visitor statistics
View how many times your Ad Detail has been viewed.
Multiple user options
Potential buyers can view ads using our search function, location listing, or make listing.
Easy Update
Ads and photos can be modified easily and quickly.
Targeted buyers
Because each ad is specifically crawled by the major search engines including Google and Yahoo, your ad will show up in the search results of potential buyers who execute searches specific to you car for sale.
Ads are valid for 6 months
Rewew at anytime to continue running your ad for an additional 6 months.
Advertising Details
There is no charge to post your ad on Collector Car Ads but we do operate in part on donations. If your car sells through our site please consider a $20 donation. Given the tremendous exposure your car will receive through our site we feel that a donation to Collector Car Ads is fair to our advertisers. Remember, there is no obligation for payment. Few sites if any can give you this kind of exposure without payment up front. We feel this is a win win situation- the more ads we have on our site the more visitors we attract increasing the likelihood that your car will be sold through Collector Car Ads. Collector Car Ads has been online since 2001 and attracts over 100,000 unique monthly visitors.